Mediafixer processes agitation/mixing are essential in the vast majority of industries formulating products from liquid, powder or other ingredients.
However, when products and/or their ingredients exhibit complex behaviors, formulation, scaling up or production are likely to constitute technical challenges in the face of which empirical approaches prove to be limited.
Adapt formula and agitation/mixing process together
The usual industrial approaches tend to develop and validate the formulation in relation to the marketing brief on laboratory equipment. The transition to an industrial scale then regularly poses difficulties.
Indeed, the differences in geometries, torques or speeds imposed by the pilot mixer induce a process of transformation of the material different from that at the laboratory scale, and therefore different final properties.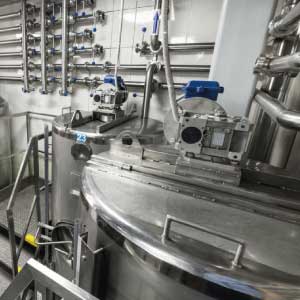 Similarly, in production, certain variability in ingredients or environmental conditions cannot be systematically compensated for by operator settings.
Faced with these limitations of usual practices, the innovative, efficient and proven approaches of RHEONIS constitute an alternative of interest both in the formulation, dimensioning, industrialization and problem-solving phase.
Accompany your stirring/mixing challenges
RHEONIS puts at your service its technical expertise, its experience and its unique methods of instrumented micro-pilot to support you in your agitation and mixing challenges:
Understand the variability factors and determine corrective means
Study the material/process couplings to adjust the composition, the incorporation orders, the motives and the agitation parameters
Study optimizations of your processes
Bring you our expertise in support of your operational procedures
Would you like to discuss your issues directly with our specialists? Do not hesitate to leave us a message, we will respond within 48 hours maximum.
Last Updated on September 21, 2022 by Vincent Billot