Our clients' issues usually encompass industrial, technical, scientifical and methodological challenges. In order to answer every possible aspects of the need, we combine technico-scientifical expertise, a unique methodology and various technical and general method.
Our high-level tranverse expertise
We hold expertises in four complementary domains involved in transformation issues :
Industrial process: pumping, stirring, thermal treatment, injection, extrusion, coating, spraying, …
Behaviours and transformation of matters : powder, granular, complex fluid, paste, semi-solid, soft material
Instrumentation, metrology and testbed : rheometry and thermomechanical techniques, optical techniques and custom-made ways to study matter and constrait interactions
Diagnosic, R&D, design, innovation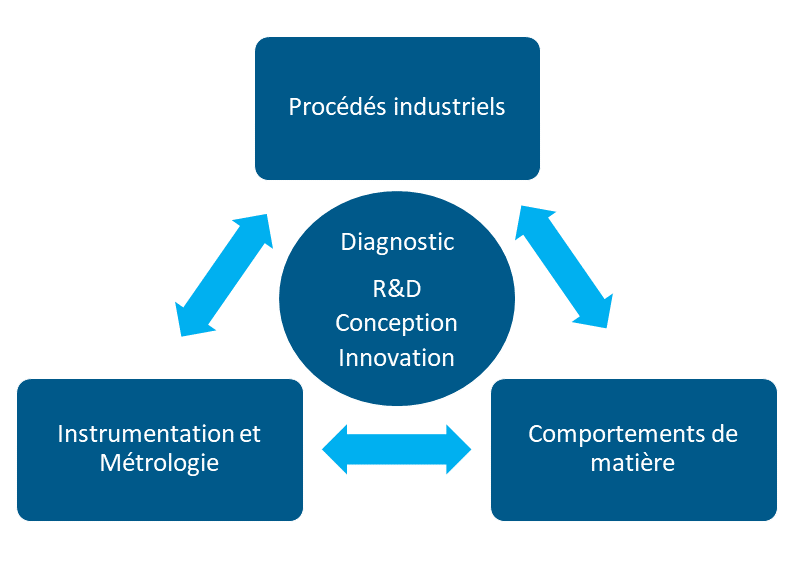 Our innovative methodology
We developped our original methodology SPIQI (Science-based Performance Innovation and Quality for Industry) progressively, through more than 200 projects. It is designed for developing operative, methodical, organisational and strategical approaches  thanks to a better mastery of couplings between matter, product, process, application and measure.

SPIQI in a few words
SPIQI aims at improving the mastery of influencing factors and the understanding of behaviours and transformations of matters and products, from R&D to final use.
SPIQI is systemical, pramatical, technical and scientific and is complementary and compatible with standard quality and improvement approaches. SPIQI is a practical framework for developping solutions, improvement and technical methods at operative, organisation, strategical levels.
Our dedicated technical methods
Our methodology involves various original technical methods that we developped in our actions with more than 20 industrial sectors.
◊ Industrial Phenomenology

This original approach of industrial diagnosis focuses on the analysis of the phenomena involved in behaviours and transformations of matters and products, their influencing factors and the way they are handled and can be improved.
◊ Instrumental Simulation

This method aims at reproducing phenomena of interest at laboratory scale, on instrumented experimental setups (see « Technical Ressources »). This allows studying, qualifying and understanding process/product or application/product couplings, theirs influencing factors, causes of problems and evaluating solutions adapted to plant-level constraints.
◊ Process/Product Modeling

This method leans on Industrial phenomenology, Instrumental simulation and adds combined DoE and modeling technics. This allows accurate estimations of process optima, without systematic plant-equipement application and without the need of any theoretical model. This method is particularly adapted to problem solving, optimisation and design.
◊ Combined Design of Experiments

This method combines Design of Experiments at R&D level and plant-level so as to limit resources consumption and liabilise the representativity of R&D studies. Such approach is adapted for the development of process/product semi-empirical models as well as influencing factors determination or formulation.
◊ Design of technical solutions

This methods adds tools of functionnal analysis, creativity, prototyping and sourcing to the above methods and the fine understanding of matter/constraint couplings, in the aim of designing pilot equipment, testbeds or application apparatus.
◊ Accelerated (Re)Formulation

Above methods allow faster and more reliable formulation and reformulation approaches. Screening of ingredients become quantitative, so as texture, phase changing, processability  and application properties.
Non technical methods and tools
Technical project management
Functionnal analysis
Problem solving and continuous improvement
R&D project management
Litterature search and knowledge management
Brainstorming
Training
Technical resources
All these methods lean on high-performance technical ressources.