RHEONIS, innovative services for industry
RHEONIS has been founded by a team of scientists and engineers who share the passion of science, the service-and-resultats oriented mindset and the taste for challenge.
Dr. Albert Magnin, researcher at French National Institute for Research (CNRS), former director (2004-2010) of Laboratory Rheology and Process in Grenoble, with a vast experience of industrial partnerships.
Dr. Vincent Billot-Ridet, CEO, PhD in polymer physics, MSc in physics, specialised in innovation management, technology transfer and industrial collaborations.
Dr. Nicolas Mougin, Technical Director, PhD in rheology, MSc in fluid mechanics, mechanics and thermics, expert in rheology, mechanics, instrumentation and process.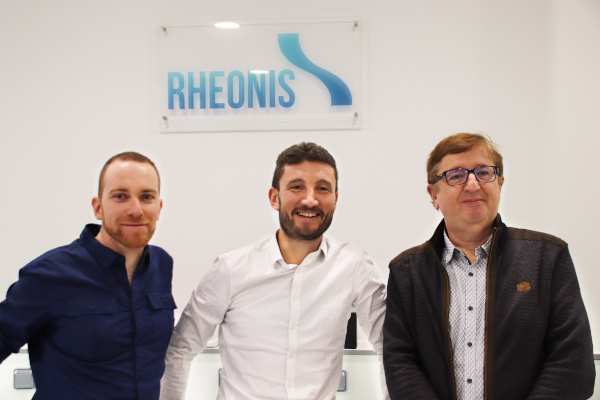 RHEONIS founders late 2019 : Nicolas Mougin, Vincent Billot-Ridet & Albert Magnin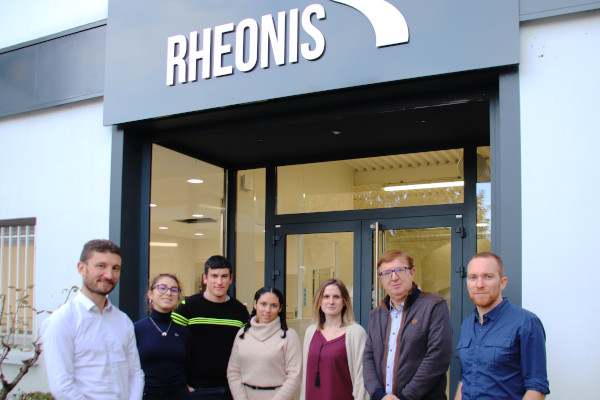 Boosting our intuitions
In 2010, Albert Magnin supervised the development of a rheological measurement platform located in Laboratory Rheology & Process, with both Rheonis cofounders. In this context, during two years, we progressively realised that technical industrial issues ought to be treated with innovative approaches.
Facing academics environment constraints, we chose independance. After one year of preparation, in 2013, RHEONIS was launched in Grenoble, with the support of the French Bank for Investiment (BPI), Auvergne-Rhône-Alpes Region and France Active.
From rheology to industriel behaviour and transformation of matter
At the beginning, our activity dealt with the impact of thermomechanical process on products rheology. Progressively, our clients challenged our methods for various issues of physical behaviour and transformation of products, broadening our initial speciality to physics, physico-chemistry, mechanics or therrmics. From samples-measurement-based interpretations, we integrated formulation, problem solving methods, exotic experimental methods for industrial challenges always linked to product/process poorly understood couplings.
We equiped our laboratory facilities in order to cover all kind of matter : powder, granular, complex fluid, pastes, phase-changing products, semi-solids, soft matter. In the meantime, we developped our expertise and methods for industrial processes : stirring, pumping, thermal treatment, extrusion, coating, spraying, granulation, printing and much more…
From science to industrial methods and solutions
With more than 250 projects in more than 20 industrial sectors, we hold a strong and broad understanding of industrial issues regarding matter transformation. More than 7 years of R&D nurtured many innovative technical approaches as well as a unique methodology for the development of tailor-made solutions. We are able to provide or recommand improvement, solutions and innovation regarding matter, product, process, application, equipment, methods or instrumentation.
Our systemic approach is unique and allows us to face, at the side of our clients, technical challenges and issues regarding performance improvement, quality, innovation, sustainable development or industry 4.0, and develop and propose solutions and methods adapted to different levels of the organisation and value chain.